Dan Cox's Day as Lymington Swamp Hampshire Academy
Southern Premier League: Premier Division
Hampshire Academy I 109 Lymington I 111-4
In a rain shortened game it was youngster Dan Cox who inspired Lymington to a six wicket win with both bat and ball.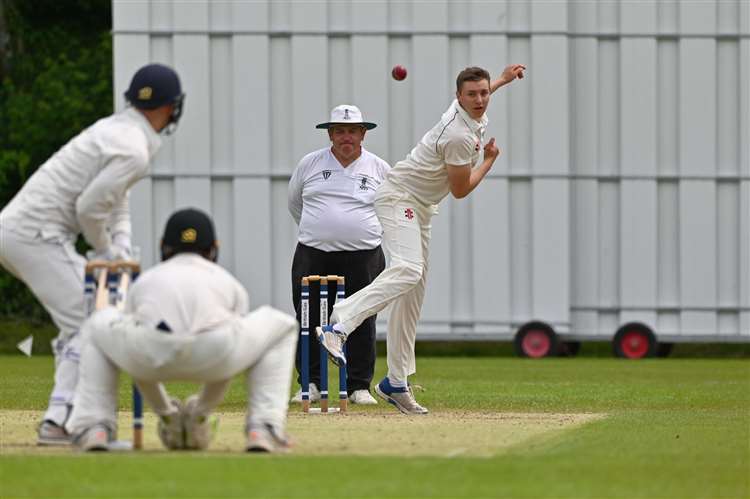 Thanks to the patience of players, officials and ground staff the game finally started three hours late and was reduced to 32 overs a side. While being a low scoring game it proved to be an exciting one.   
Lymington captain Matt Metcalfe won the toss and inevitably elected to field given the damp conditions with a swinging new ball. Matt (2-18) and fellow opener James Wade (1-16) reduced the Academy to 21-3 a position they never really recovered from. But it was spinner Dan Cox who did the real damage with a remarkable 6-15 in 6.5 overs, by far the best performance in the Premier Division so far this season. Poor shot selection did not help the Academy cause. Thanks to Harry Broderick (23) there was a small recovery as 31 runs were put on for the fourth wicket but then wickets continued to fall steadily once Ximus du Plooy (1-33) removed Harry caught by Dan Cox. Only Louis Prichard (18) offered any resistance in an injury-interrupted innings and he was last out in the 31st over. A shortage of wicket keepers saw Ben Rogers behind the timbers for the first time in many years and only a credible 8 byes conceded. James Wade and Dan Cox are now the joint leading wicket takers (12) for Lymington.
Lymington also got off to a poor start and found themselves on 7-2 as paceman Josh Croom (2-21) proved difficult to handle bowling both Lymington players. This saw the arrival of overseas player Ximus du Plooy who scored a 50 for the second week running. His patient knock, 58 not out in 76 balls, in difficult conditions included three fours and two sixes. He and Dan Cox, 24 including two fours, put on 56 for the fourth wicket in 14.3 overs with a disciplined batting performance. Dan was then run out by Harry Broderick but it was not enough and Lymington were soon home in the 29 over.
After four defeats in a row Lymington go into their next home game on Saturday against Burridge with three consecutive wins under their belt as they move away from the bottom of the table.
Scorecard: